Welcome to METALL, METALL is a large-scale Metal products factory, located in Hebei province of China.
METALL with a large well-equipped factory of 40000M3, Storage area 10000 square meters and a highly trained team of over 200 employees.
The factory is equipped with complete production lines, and advanced modern machines, with 1 set of automatic enamel production line, 1 set of automatic electrostatic spraying line, 1 set of stove accessory chimney production line, 13 sets of cutting, punching and pressing equipment, 15 sets of welding equipment, 2 sets of automatic chain link fence machines, 3 sets of automatic mesh machines and so on. Automatic machines and skilled workers ensure a high productivity with less production costs.
METALL always focus on design and manufacturing all kinds of metal products. Our customized products include Enamel wood cook stoves and stove accessories, Garden Gates, Guardrails, Garden Stands, Flower Baskets, Wreaths and dog cages.We customize the productions designs to meet customers' need.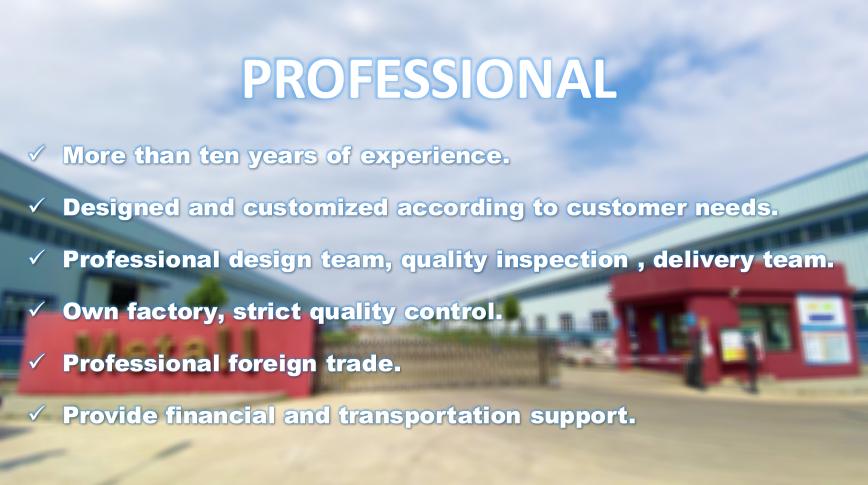 Our products are exported to over 30 countries and regions. Include USA, Euro, Canada, UAE etc.
Now we are striving to become a leading Metal produce brand in China.
METALL has always been committed to providing customers with excellent products and service.
We will keep to the standards of product and service excellence. For any suggestions , comments and problems, please don't hesitate contact us.
METALL, committed to make your life warm and comfortable.
Metall has been committed to the hardware industry for decades, and it was the earliest in China to enter the hardware industry. The leaders have rich practical experience. From the earliest small workshop to a company with more than 200 people, we have never forgotten it. The original dream is to serve users and provide users with the best quality service and the most reasonable price. Choosing METALL, our growth is inseparable from your support.